James Potts: #1 john in Boston

"A perverse story from Half-Lady Lisa's boudoir"

fiction/biography

by Half-Lady Lisa


---
where to order

In the U.S.: www.amazon.com , Barnes & Noble

International countries: www.amazon.co.uk , www.amazon.ca , www.amazon.fr

Downloading ebook: www.powells.com , www.booksonboard.com


---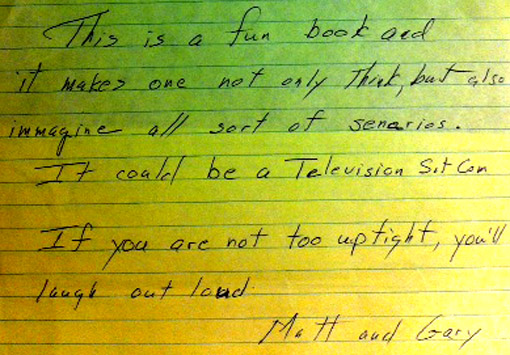 It's a Thursday morning—when my week begins.
What is so special about Thursday(s)? Besides the once weekly chore of putting my trash barrels out, there is one favorite hobby which has become my must-do Thursday morning list. It wakes me up earlier than other week day, to walk about a half mile (this might be considered a chance for exercise, except this isn't really for my health benefit) to the Lechmere subway train station on Cambridge Street. Here is where I normally pick up a copy of the weekly newspaper 'Boston Phoenix'. Although, this of my special must-do list seems unnecessary to other people's general day-to-day living, I would be angrier at myself if I miss reading any weekly edition than if I forget to put the trash out.
Thursday is never my bad day, even though, today is a late October day, and a winter storm is forecast to arrive. Whether my Thursday morning happens to be rainy, windy or snowy; my mind always visualizes a cheerful sky, with a rainbow appearing over my neighborhood and a day which I can fill my lungs with fresh air.
On my way back home, if today isn't a Thursday morning, I would never walk as fast as this. The increasing of excitement to see and read 'what's new' in the adult section of the Boston Phoenix newspaper causes my heart throbs. My head is full of lust. My heartbeat ranges from normal to abnormal every step closer to my home. I live on the Sixth Street; just a few blocks off of Cambridge Street. Unlike Cambridge Street, Sixth Street has almost no traffic, big trees grow provide shade along the street. I love my neighborhood—it is one of the quiet residential areas in East Cambridge, Massachusetts where I have lived all of my life.
By the time I arrive at my home, automatically the weekly Phoenix is now rolled up, and quickly tucked into a back pocket of my blue jeans. I walk through the tiny walkway on the side of my single-family home which leads me to the back door. In my haste to get to read the Phoenix, kitchen door is quickly opened. My hip suspends on the swing door to shut. I quickly take just one step in my back hall, just enough to straighten my arm to grab a big trash bag with one hand, while the other hand pulls out a small blue recycling bin. Then both of these are carried speedily along the walkway, to leave them on the sidewalk in front of my house. Luckily, today I am on time; the rubbish truck is just pulling up.
My Thursday morning routine is now almost complete. More importantly, now, I don't have to worry about anything else that might interfere with my reading of the Phoenix.
---
(excerpt chapter 2)...Liling, a cute young Chinese girl, is this week's cover-girl for the adult section. She has a seductive moon-like face, then, adding more innocence to her face are two pony tails. She wears a very short and tight skirt; a cropped white top tied tightly into a knot under her boobs, revealing her belly and navel. The shirt is too tight—if she can breathe, isn't my business, but I like it, staring at the picture of her squeezing her big fake boobs—puffing them up by pushing them against each other—oh yeah, this little girl definitely knows how to play with adult males. Her warm smile, revealing little white-pearl teeth, is so inviting. It leads me to fantasizing about pumping my hard rocket between her soft, round lips. While my eyes are glued to her image, my loose hand gropes for my black framed reading glasses (I remember they are somewhere near my coffee cup) to enjoy a larger picture of her cute, round face—the moon light blinds my eyes.

………….2-2
I take one sip of coffee before opening to the inside of the adult section. My time previewing the Asian cover model is over. Now I am preheated, hot & hard enough, to get into the real (sex) business—available female and shemale escorts are waiting lasciviously for my call.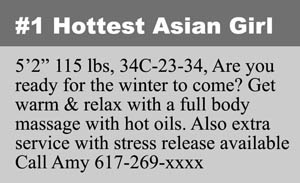 My psychological and physical attraction to Amy's ad is the "#1 (number one)". However, I don't think that she has won any award(s), nor does the #1 suggest the potential of her massage skills. If one follows the Phoenix escort ads every week (like me), he will see #1 ads every week, with different girls, but ads listing #2, #3, #4, and #5 never appear. If any female escort says that she is #3 in Boston, I would applaud her honesty, (meanwhile #1 and #3 for me are not different).
Next, because the ads run alphabetically, any symbol such as (#) or (*), are added to an ad, so it will appear first, before any ad with the initial 'A'. Therefore, the ad title—'Young Cute Girl' can appear before 'Angie Busty Girl' with the initial A, by adding (*) as ***Young Cute Girl. It is just a competitive trick to place her ad on the first page (front row), of the escort section.
Other things I have learned from studying escort ads are:
First—escort fees are non-refundable so I don't respond to the first ad I read, but I am very picky, trying to select a winner. Escort services are beyond the control of the Massachusetts Consumer Protection Agency law. In case I make a bad choice, filing a complaint with the Better Business Bureau or a small claims court would be embarrassing and shameful; especially going to a small claims court where a shemale escort might also be the judge! Additionally, media publicity would allow my friends & family to find out about my nasty sexcapades. Filing a complaint would not be worth the time and infamy. A better game plan is try and control any potential anger by believing (optimistically) that when I hire an escort I am an active philanthropist who is just trying to keep a young girl from starving (this is probably why men call the escorts' fee a "donation"). Then I will keep damning her to go out of business or bankruptcy, while returning home.

.....................................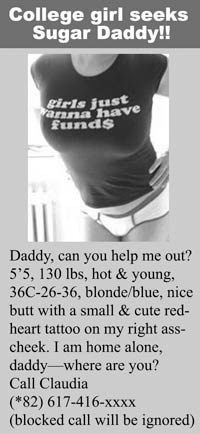 This is the third thing I have learned from my years of perusing escort ads: the word 'college' in an escort service ad implies that her age is just slightly above eighteen—the youngest legal age that newspapers allow escorts to advertise. Escorts describing themselves as young girls will attract a wide audience. If the term 'High school' were used, it would suggest an unlawful teen age. Therefore, in escort business, the word 'college' does not suggest anything about her education—she could be a high school drop out. I saw Claudia once; she even misspelled her hometown B-O-S-T-O-N.

.....................................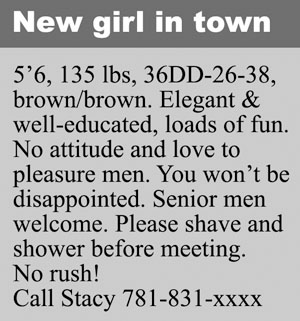 Many times I feel unexcited after viewing and reading the same escort ads every week. Any ads describing the escort as 'new in town' immediately catch my attention. Imagine tasting a new dinner of fresh meat—a new-in-town girl who just opens a toy store in my home town, (with a grand-opening sign still hanging in the window). However, a 'new-in-town' girl sometimes can mean 'new in Boston' but an escort with a very old or bad reputation who has been forced to leave other towns.

(Read full story to see what else Lisa suggests about escort ads. This is Half-Lady Lisa's the best story and you will enjoy reading. 'Midnight Life in Chinatown' was written for escorts but 'Jame Potts' was written for clients. I guarantee, you will like it.)


---
Mommy Fantasy
(excerpt) ... Backed in 1990,
I met a woman through the Boston Phoenix's adult service. Her name was Suzanne. She was the one (and only one in my life) who told me to know that in escort service, age does not really matter.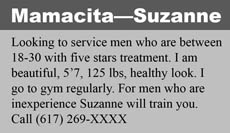 "Hi, I call from the ad you have in the Boston Phoenix. My name is Jim," I called Suzanne one day.
"Hi, Jim, how are you?" She answered with her sweet voice.
"I'm fine. Do you open for today? I would like to meet with you. But I am older than 30, do you see older man? I have little experience and want to be trained by you," I said.
"Yes, Jim. I have some older men come here. But I indicate on my ad that I am looking for young men because most young men like me," she said.
"Oh good. And how do you train people?" I asked.
"You have to try. Each man needs different levels of training. I have long experiences—you need to trust me," she said.
After making an appointment with her, I took shower, wearing red socks and red headband. And never forgot Lorena's advice that cleanliness is important for having sex. So, for my hygiene, I prepared, ready with me in my backpack, a washcloth, mouthwash, hand soap and comb. Then I took the red line train from Central Square station to meet her at her apartment in South Boston.
Upon the arrival to her apartment, an old lady answered the door after I knocked.
"Uh, I come here to meet Suzanne. Are you her mother? Can you please let your daughter know I am already here?" I asked her.
"I am Suzanne. Are you Jim?" She asked happily.
"Are you kidding me?!" I said shockingly.
"Why do I have to kid you?" She asked—very calm.
"I can't believe—someone in your age still works in escort service," I taunted. "Oh, no, no. I can't spend time with you. I think I have to go home."
"You are wasting my time because I've prepared everything for you," she made a small complaint.
"I don't waste your time. BUT you are wasting my time. You know—how long it has taken me to get here, yet I have to come to see a grandmother dress in Victoria's Secret lingerie. Sexiness comes from fresh skin, not just being cover by a sexy dress!" I yelled. "If I have to spend time with you, you should be the person who pays me to service you!"
"You should read my ad before you make an appointment. I say clearly in my ad. This should not be my fault," she said.
"Oh yeah, of course, I have read your ad over and over. Here I will show you how you lie on your description," I yelled angrily, in the same time I pulled out the newspaper folded in my backpack to show her. "Here you say on your ad—'I am beautiful'…"
"Yes, I am beautiful—in my age," she said.
"From your age, you can be my grandmother. You say in the ad—'mamacita'. Mamacita means 'beautiful and sexy woman'," I yelled.
"No. Mamacita comes from the word mama which means mother and ita means female. When putting the two words together, mamacita means little mother—and that here I am," she explained.
"No. Mamacita means beautiful woman—and that I come here to see her, not her grandmother!" I yelled. "I can't spend time with you. I have to go home," I said and immediately walked back.
"Have you ever tried—'mommy fantasy'?" she said from behind; I paused.
"Oops, what is it?" I asked curiously.
"Never done before? You are already here, why don't try it once—you may like it. Come in here. Don't be mad," she invited.
I easily followed her inside her apartment.
"Years ago, I used to work in a kindergarten. Until I got laid off two years ago, jobs are hard to find when getting older so I decide to work as an escort. I put together my experience from working at the kindergarten to my escort service. Many young men like me; they say my age helps me become a unique escort," she said while leading me to her bedroom.
"Wow, you are very lucky. Many escorts who are younger than you have to service older clients but you have young men come to pay you," I said; she laughed.
"Here is your dress. The bathroom is over there," she said and sent me a baby dress.
"I thought you want me to be naked," I said.
"For mommy fantasy, you have to dress like a baby. Go to change your diaper in the bathroom. I will wait for you here," she said.

…………… 17-2
Five minutes later, I walked out from the bathroom. Suzanne was half lying on her bed. She was crying while looking at a photo held in her hands.
"Oh, you are crying," I said to her with sympathy. "Just because I am not a young, handsome man, does that make you unhappy?" I said.
"No, not about you," she said while wiping off her tears.
I walked to her; she slightly moved for me to sit on her bed next to her.
"Whose photo?" I asked.
"My son. He passed away long time ago from a car accident," she said. "Rest your head on my lap," she said; I did.
She crooned. Her hand rubbed on my head softly; this soft rub I had never felt from anyone, except from my mother—and Suzanne gave me perfectly the feeling once I used to impress in the past.
Her soft rub and croon helped me see myself again as a little boy in my dream. I was in my home, walking down the hallway to the kitchen. I leaned on the kitchen door, peeking at my mom from behind while she was sitting on a wooden chair. She was sewing a shirt for my dad. Her calm demeanor and elegant dresses were still clear in my memory. If I could, I would like to live here in my dream forever.
Then I sneaked closer and closer to her from behind. At a close distance, I called her lightly—"mom, mom, Jimmy's here," for my intention to hug her. Meanwhile, she turned her face slowly to me.
"Oh My God! Mom! Mom! Oh mom! Mom! Mom! Ahhhh!!!" I screamed.

………….... 17-3
I was frightened!
I quickly woke up from my dream. I sat up and panted.
"What happened, Jim? I hear you scream loudly. Do you see your mom?" Suzanne asked.
"Yes—Oh, No! I don't know how to explain to you," I sighed. "I saw my mom—BUT not in her complete picture; her face, uh, was my dad's. Maybe I've thought about my dad too much."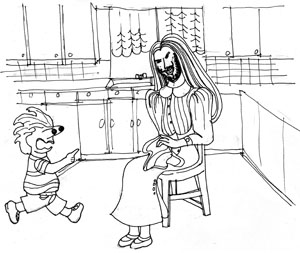 "That's okay. Instead you dream of your mom, you can change to dream to your dad," Suzanne said.
"I can't. Your rub on my head is too soft to have a dream of my dad," I said.
"I have an idea. What's about if I spank you, instead of rubbing your head. Is that rough enough to give you a sense that your dad is with you?" She asked.
"That's a good idea," I said.
Then she walked into her bathroom and walked out with a toilet puncher.
"Are you going to spank me with this?" I asked.
"Yes—why not. I don't have a paddle. One of my clients really likes being spanked with this toilet puncher," she said.
"Okay, try it," I said; she spanked me. "Ouch!"
"Do I spank you too hard?" She asked with laugh.
"Do it softer. For that hard I would feel like I was beat up—my dad is not a gangster," I said.
"What's about this hard?" She spanked me again softer.
"That's much better," I said.
"I think we should have some codes. When you want me spank you softer, you just let me know by saying 'mom'. When you want me spank harder, you say 'dad'," she said.
"Okay—that sounds good. Let do it," I said.

…………… 17-4
I closed my eyes and lied down quietly. Suzanne started spanking me. It won't take long for me to dream of my dad; I saw his image as he always existed in my memory.
In my dream, I was a little boy. We were playing baseball together one evening at John A Ahern Field. Dad pitched the ball; I hit the ball—with his energetic voice 'hit the homerun for me, kid'. We were having fun together.
Ten minutes later, I thought his energy was rose up higher and higher. Until the ball hit on my stomach, I fell down on the ground. I looked at him like I wanted to ask him—'dad, what is going on?' However, he was smiling like nothing happened. His pitch still continued and it seemed to be harder and faster every time.
"Oh dad, I hurt!" I said; he still had a happy smiling face and continued throwing balls to me. "Dad, I want to stop. I hurt!" I yelled at him but he didn't stop pitching.
Then I thought about the code that Suzanne told me.
"Mom, Mom, I hurt," I said. Dad image was suddenly swapped to mom. However, the toughness in throwing the ball remained unchanged. Mom's strength was the same as dad's. "Mom! Mom! Mom!"
"Oh, dad! Dad! Dad!," I yelled. Mom's image was quickly changed to dad's.
"Mom! Mom! Mom! Mom!," I yelled. Dad's image was swapped to mom's—with the same strength as dad's.
"Oh, dad! Dad! Dad! Mom! Mom! Dad! Mom! Mom! Mom! Dad! Dad! Mom! Dad! Mom! Mom! Dad! Mom!..."
In the room, Suzanne was talking excitingly on the phone with a new client. She tried to convince her new client to buy her service as her client said to her that he had dreamed about mommy fantasy for years. And because it was hard to find an escort to do this fantasy, he would like to book an appointment with her for over night which he could pay her up to 3,000 dollars. Her ears at this moment couldn't hear anything else, not even my loud scream—— "mom! Dad! Mom! Mom! Mom! Dad! Dad! Mom! Mom! Mom!..." She was now in her dream of getting paid three-thousand-dollars. The excitement gave this old lady Wade Boggs's energy so she hit me harder and harder every time. The most painful was when she hit the right spot—on my balls—that was considered a homerun.
"Don't worry honey—I always gave a special treatment, intensive care for my first timer. I am very sweet and gentle because I am a mom. All my clients love me a lot. They always applaud me after our sessions end that my soft touches are really mom-like," Suzanne laughed with her clients on the phone. "Trust me, baby. I used to work at a kindergarten. I know how to treat a boy!"

…………... 17-5
After the session ended, with guilt, Suzanne refunded part of the fee I previously gave to her—for me in use of taking a taxi home. And she had to sustain me stagger to down stair when the taxi arrived. My back, my hips, my butt, and my legs were bruised.
Moreover, her mommy fantasy had still haunted me. Every time I saw a couple walked together with kids, my brain was converted by seeing a husband had his wife's face and a wife had her husband's face. It had taken me for two months to convert my brain back to normal and see people had a correct face.
There are 22 more chapters and more illustrations for you to enjoy reading. All stories are beyond your imagination.