"Thai tranny tales"
Based on true stories of tranny Lisa and a group of her tranny friends from Angel City - Krungthep, Thailand.
by Half-Lady Lisa

---
where to order

In the U.S.: www.amazon.com , Barnes & Noble , www.createspace.com

International countries: www.amazon.co.uk , www.amazon.ca , www.amazon.co.jp , www.amazon.fr , www.amazon.de , other countries

Downloading ebook: www.powells.com , www.booksonboard.com
---
Chapter1: Standing in a wrong place

When I was attending university, I lived in an apartment in Hauykwang, Bangkok. Unlike other apartment buildings, there were just a few students like me living there. Most of the people who lived in that building were like vampires who worked during the night time and slept during the day. Therefore, it was quiet and that I liked.

While I was living in that apartment, I had a chance to know a beautiful half-lady named Jeab but I called her 'Jae' Jeab. ('Jae' is a Chinese word which means older sister. Any half-lady who has the word 'Jae' accompanying her name will be respected by younger half-lady that she is beautiful and professional.)

The first time I saw her, I didn't know that she was a half-lady. She worked every night, except Tuesday, at a famous restaurant as a singer. Her voice was very beautiful, exactly like a woman's voice.

One late afternoon, Jae Jeab told me while we were devouring and sucking ravenously Chinese noodle soup in front of our apartment building that she had practiced for many years to learn how to control her voice. Every evening she dressed in her sexy outfits – skimpy tops showing almost all of her big breasts, tiny and very tight short black skirts, black stockings on her beautiful legs and high heels that were at least 3" high. She had long silky hair, a cute face and a sexy body. Every time she walked down the street, all the guys' eyes would be glued to her, and her perfume would make them dream of her for days. Of course, all the restaurant's customers liked her - they didn't know she was a half-lady because she was asked by the restaurant manager not to show her secret weapon. The manager was worried that some customers might be disappointed if they saw her big 'oops'.

I asked her about her job which I was interested in. I was thinking that in case I couldn't find a job after graduation, being a singer might not be too bad.

"Oh, if you want to be a singer, you have to do breast implants first," Jae Jeab.

"Why is that so important?" I asked.

"Many men like to slip big tips between my breasts. Big breasts have more space than small breasts to carry big tips. That's why I asked the doctor to do the largest ones for me - ha ha ha," - Jae Jeab.

She just turned off my dream. I knew then that the size of the tip was based on the size of the breasts. So being a singer would not be such a good job for me because at that time I did not have breast implants. I had only two little nipples so I could get nothing except just two dimes. She also bragged that some guys came to the restaurant almost every night to meet her. They dreamed that they would have a chance to fuck her pussy one day. An older man even asked her one night to marry him but she couldn't do it because of her secret gender.

One summer night, she took a taxi from her restaurant after finishing work. It was about a 15 minute drive from her work to the street where she lived. Instead of turning onto her street however, the jackass driver wasn't paying attention and drove right pass it. Making a U-turn and going back would have taken another 10 minutes at least, so she decided to get out and walk back along the street to her apartment. She thought walking in the summer would be good exercise. Walking home would take less than five minutes which was not too bad. She had walked just a little way when she felt that she really needed to use a restroom to piss. It definitely could not be her bathroom because she would not be able to hold her piss until she got back to her apartment. It was an emergency situation, she was very desperate.

Suddenly, her eyes caught on something which gave her a shameless idea, but might save her from getting wet before getting home. It was a large trash pile a little ways off of the sidewalk. She was optimistic - since at 2:30 a.m. the street was very dark and quiet. She jokingly told me that if nobody was passing by after she pissed, she was also going to masturbate herself. Masturbation in public was her fantasy.

When I heard her joke I could not believe how this beautiful gurl came up with that silly idea although she did not do it. It was not only shameless, but also humiliating.

She did not waste any time but rushed over to the trash. Around the trash, she found herself walking unsteadily because many plastic bags and junk paper stuck to her heels. Worse yet, some male cockroaches tried to climb up her beautiful legs. She had to kick off many of them because she was worried that they would bite her dick and then find a new place to live inside her panties. This might not be such a good place for her to piss. However, no place was better than this so she had to do.

As a part of her body was different from a woman she was most comfortable standing up. If she sat down her hanging nuts would sway, rubbing the ground. She began by using her left hand to lift her skirt up, her other hand held her faucet. Then she used her fingernail and scratched her prick gently to make her piss flow smoothly.

Oh my, the sound of her piss was so loud. It was not as beautiful as her voice due to never having had vocal practice. It was loud enough to drown out the beautiful cricket sound. Everyone who heard her would be able to imagine the diameter of her faucet which must be oversized! Her piss spread all over the trash. She felt really sorry for the guy who would come to cleanup the trash in the morning. She thought that his hands were going to be wet sticky, and stinky. However, she helped public by trying to avoid the recyclable trash because it would not be good for her piss to be reused.

While she was continuing her piss, she heard a man's voice came from behind her. He was about fifteen feet away from her. That voice seemed a bit disappointed.

"Oh god," - the man said to her.

She was frightened and disconcerted. She immediately turned her face to where the sound came from. Moreover, it was very embarrassing when she saw that the man was around thirty-five years old, standing in the dark and keeping close watch of her. She hoped that he could not see her dick because it was too dark.

"Are you a man?" - The man didn't stop talking, but continued humiliating her. It caused her to almost lose her mind, because nobody had ever asked her that before. She was crazy enough to forget what she was doing. Her piss spilled all over her beautiful legs and stocking, then it flowed down into her 3" high heel shoes.

Finally, she learned her lesson - pissing in public was not worth anything. She was still wet when she got home. Moreover, no makeup was left on her face, only shame. However, she tried to be optimistic that at least she was lucky because the man saw only her pissing - if he came later just a minute, he would have been stunned with her masturbation and that would be even more shameful. On the next day, her allegation would make a big headline. People would discuss it all over town and he would be the best witness.

The man lived on the same street. After that night, he told people that he had fallen in love with Jae Jeap's beauty. He knew that she had to walk on the street every night. He tried to spy on her to find out where she lived. He hoped that he would have a chance to get to know her, then build up a relationship. After that, if things worked out between them, he would ask her to marry him. Unfortunately, his dream collapsed when he caught her pissing while standing up.

A beautiful young lady, great personality, cute face, nice and sexy body is every man's dream of a perfect girlfriend. Jae Jeab had done many things in her life such as the transformation of her male gender to be a passable half-lady. She had practiced successfully the most difficult things for a half-lady to do, which was to change her voice from male to female. However, all of these difficult things she did weren't enough to be a passable half-lady when she forgot about one little thing: 'Jae Jeap needs to learn to pee sitting down.'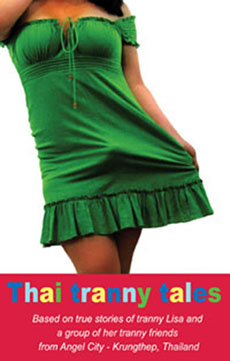 Dear Half-Lady Lisa,
I am just writing a quick email to say thank you very much for writing your awesome book, Thai Tranny Tales! I am enjoying it very much, it's amazing. Normally I don't write to authors (this is my first time!), but I am enjoying reading this so much I felt compelled to. I visited Thailand about ten years ago and was lucky enough to spend time in Bangkok, so reading your book now, a decade later, brings back many wonderful memories. The fast-paced and truthful narrative also reminds me a lot of Irvine Welsh mixed with Charles Bukowski, two of my all-time favourite authors! I am about half way through your book now. I just finished chapter 8 ("She cried so much like a crazy gurl"), and I loved this because it expressed something I have felt for a long time, but never yet heard anybody else say - that virgins are just nowhere near as appealing as more sexually experienced people. I don't get the fascination with virgins, when there is clearly so much more fun to be had with experienced veterans! Anyway, thank you very much again for your fantastic book. I can't wait to get back to it!
Fan mail for Thai Tranny Tales! from North Carolina


"Fantastic read!, I loved it! The way that Lisa tells a story, with a sprinkling of humor, a big dose of eroticism, a little pinch of dirty talk, makes for a sexy birds eye view of growing up transgender in the Thai society . With Lisa there is no false pretenses, she tells it like it is......I especially love the authentic mix of her Thai language and the English language as she struggles with grammar, for me this makes the perfect way for her to tell the "Thai Tranny Tale" story of blossoming young shemales going through the stages. It intrigued me to read how it is for a young college age shemale to morph, learning how to apply all the special preparations that only a tranny has to consider and deal with. It is fun following Half Lady Lisa, and her young sexy Thai tranny friends through new adventures and situations , from situations that all males in every society have to go through, to embarrassing moments that only a ladyboy must deal with, to, ironically, fending off the attractions of most males that in private lust for the ladyboys, but in public humiliate them and make fun of them. Now I want a Thai ladyboy of my own! Lisa gets my Seal Of Approval!!" by fluxcapacitor

"Oh my God!!!,The activities going on in Thai Tranny Tales, I have never heard of before. Each story is so strange and second, if I don't laugh, I would have to check myself into a hospital - to have my sides checked. Thai Tranny Tales tells more than I had ever expected to know about TG life. If you can't go to Thailand, their real-life stories will transport you into her Thai transgender society. Next vacation, I think I will pack a suitcase and travel to Bangkok" by B. Mark (California)

"Fun, A very fun read. Half Lady-Lisa does a good job with all of these stories. Some are funny and some sad. I love TG gurls and know they endure a lot of problems. Half Lady-Lisa does an excellent job describing the everyday problems TG gurls struggle with. Two thumbs up. I also like the cover of the book!!!" by Just Me "Paul"
---
The New York Times Book Review
September 27, 2009

"This is not a story of transgender transformation, nor is it a transgender's romantic love story.

But 'Thai Tranny Tales' is a collection of strange and unusual stories which are created by the unique lifestyle and character of Thai trannies and presented in lovely fun stories. The same as or even similar to these stories are never created anywhere else around the world."
---
© 2011-15, by &frac12 Lady Lisa. All Rights Reserved.