Working With Passion—Success, Fame and Sexual Allegation
November 15, 2011





Have you ever thought about why someone is so successful in their careers who work as photographers, supermodels, athletes, coaches, etc than others in the same type of career? However, success and fame sometimes come along with sexual allegations.

Many years ago, I watched an interview of one of the most famous Thai photographers. During the interview, he talked about how he selected girls to be supermodels. His way was that he normally hung out at nightclubs. Any girl he felt was attractive, he would start a conversation with her. If she was also interested in working as a supermodel, he would ask her to go with him to the restroom and strip naked for him so he could see her full body and perhaps she might sex up with him - to guarantee that she got a job. Throughout his career, he has often faced sexual allegations from his supermodels.

Many supermodels are sexually harassed by their photographers, sometimes being groped / touched inappropriately by them, or many times being asked / required to have sex with photographers, these are not unusual or surprising stories. Photos taken by photographers who are fully passionate for their supermodels will be more sexual attractive than photographers who are not attracted to their supermodels: example, straight male and gay male photographers would have far different ideas on how to present female photos. So to have a profitable photographic career, sexing up with their models seems to be a part of their job.

I used to watch a gay male porn movie which was shot by a female cameraperson. They produced a much different feeling than watching gay porn movies taken by gay male cameraperson. Gay porn movie produced by a female photographer are very boring. Most highlight the romantic parts than the dirty sex parts, unfocused on the most important body parts such as the asshole. Unlike female camerapersons, male camerapersons seem to understand better what their customers want to see - close ups of cock and balls on their full scale monitors, extreme close ups of cum shooting out of the cock head, and focus closely on the asshole. This way, customers can view clearly all the pubic hair many times larger than the actual sizes. This is because gay male photographers have sexual passion for their male models, while females prefer more romantic scenes, rather than mouths dripping with cum after a cock-sucking scene.

Therefore, working with passion is a key to success in most careers, escorts also develop methods to work with passion; it is known as GFE (girlfriend experience) which allows escorts to spend more humanized time with their clients, rather than serving as a sex-robot. Escorts who can provide a true GFE will generally have more regular clients than others and sometimes they find that they have no need to post ads.

Some people who have read my book—Thai Tranny Tales, may remember E Hnon—a transvestite who was recruited as a soldier. First, she was very scared to be a soldier as she cried a lot when she was loaded onto a truck to be sent to military camp. However, after two years of serving in the military, she volunteered to re-enlist. She now loves being a soldier. Unlike her life before serving as a soldier, her non-passable, unattractive appearance had previously prevented her from hooking up with men for sex. Life in the military, however, surrounded by many men, in a place where females are scarce, made her become a star—now in the army, hooking up with men, her appearance isn't an obstacle.

Passions in this case are divided in two categories. First, is the passion to the job and second is the job becomes a bridge sending you to the goal of your ultimate passion. E Hnon has no passion for being a soldier, but being soldier leads her to another, higher goal.

A body builder told me that he used to have a very slim build, but now he is a muscle man. He would live at the gym if he could. Exercise isn't his passion, but he loves to see men walk around naked in the locker room, especially in the sauna. So having big muscles and six-pack abs is an incidental benefit from his locker room and sauna activities.

A man once said that when he was in college he used to wrestle. What he liked so much about wrestling was that he felt sexually excited and could easily achieve an erection, every time his body was cuddled tightly. This is also considered a sexual fantasy. When he hires an escort to wrestle with him, it would not make him feel realistic as much as he combines his sexual fantasy with the real sport of wrestling. Public views him as participating in a sport, but in his mind he is playing out his sexual fantasies. What he loves the most is not wrestling, but wrestling gives him what he loves the most.

Like wrestling, mixed martial arts can also be a sexual fantasy. In your commonsense, you may think about sex in only one pattern—which is a romantic scene, as often seen in Hollywood movies. However, domination is also a popular sexual fantasy as a man told me once 'pain is pleasure'. Normally, in general commonsense, straight men have sex with female partners. However, some men who are fascinated with 'pain' may sometimes look past the gender of their sexual partners and look for a partner who can potentially cause them to suffer extreme physical pain. Think about what it is like when you are having sex with a very beautiful woman, in this case her appearance helps you get excited. However, in another case, you stick your cock thru a glory hole, where an anonymous person (who you don't see, and is of unidentified gender) is sucking very good on your cock. He / she can help you feel excited. In this case the appearance/gender of your partner is not important but the feeling of having your cock sucked well is. Each individual person loves different sex acts / fantasies—and so for some, pain might be the most important.

If you don't like your job, you don't want to go to work, or work day to day just to get paid. Monday morning is a boring day but if possible, Sunday nights would be extended forever. When your boss gives you an assignment, it's always hard to get an idea out. If you don't like playing football, you are lazy to go training / practice and you are unlikely to be successful. However, if your passion is to be surrounded by many men and playing football gives you an opportunity to sneak a peek at other teammates naked in the locker room / shower, you may love to live on the football field, if possible. Sexual excitement gives you extra energy more than anything else, so you can work 24/7.

Why do some become successful sport coaches, while others can't? Being a football, baseball, swimming coach can lead into a coach's passion for being a dominant master in sexual domination fantasies, such as the fantasy of having many young men under his control during training/practice, some coaches can't yell aggressively but some can yell with passion. The yell comes from his heart like he is playing out a domination fantasy—he is a master who is trying to submit many young men to his control. Moreover, this job allows him to sneak-peek a nice handsome, fit, athletic body, maybe a naked quarterbacks in the locker room—in this case his fantasy is combined with his job and it gives him enjoyment so he definitely can work 24/7 without being tired. He can come up with new ideas in training (or in dominating young men) everyday and create methods: an organization/charity/playground to gather young people as much as possible.

These are the reason why someone is more successful than others who work at the same type of job—the important key is 'working with passion'. However, forcing someone to fuel their working energy and fulfill their passion is wrong.
---
Fun cartoon—'straight men don't talk about their sexual experiences when drunk'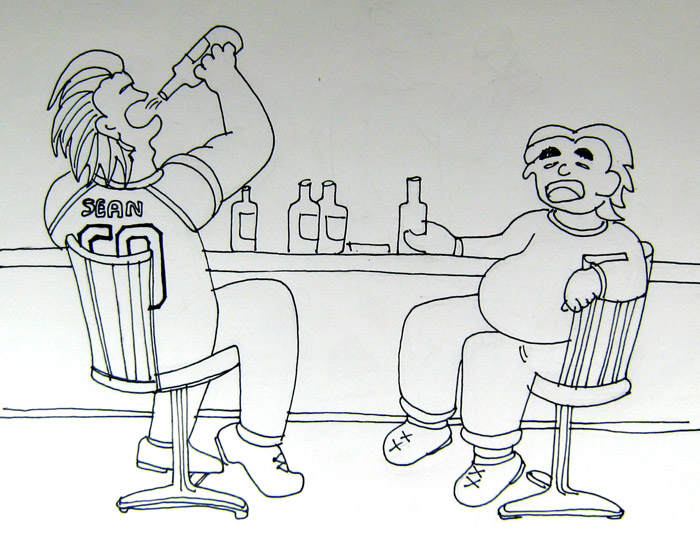 Sean and Jason are close friends. Sean is a famous, handsome man who plays football as quarterback number 69, for a famous university. Tonight they are drinking and chatting at a club. While Sean is getting a little bit drunk, his conversation is getting dirtier.

Sean: Because I am a good-looking quarterback, famous and have a good personality, many girls at the university are lined up for me to fuck them—Christina, Barbara, Gisele, Julia, Sophia… you name one. I have already fucked over a thousand girls.

Jason: Wow!!! A thousand of them! I am so jealous of you.

Sean: Don't think I'm boasting. What I am telling you is true!

Jason: You have had sex with so many girls you may not remember all of them.

Sean: You're wrong. I still remember all of them.

Jason: Are you sure? Do you still remember the first girl you had sex with? I bet you don't.

Sean: Of course I do, I still remember her. She was very amazing. She was the best cock sucker I ever had in my sex life. Her name is 'Christopher'.

Jason: Oh! I thought that was the name of your coach. Are you sure—was it 'Christopher' or 'Christina'!?!

Sean: Oops!